Dr. Ramon Blanco-Gonzalo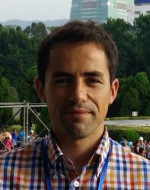 Ramon Blanco-Gonzalo obtained his Degree in Telematics Engineering at University Carlos III of Madrid (UC3M) in 2009. He completed his Interuniversitary Master in Telematic Engineering in 2011, being his Master Thesis related to smart environments and biometrics. In February 2016 he finished his PhD, that is focused on analysing and improving the usability in biometric systems. Now he works at the University Group of Identification Technologies (GUTI), as a post-doc researcher.
He is a member of the Spanish Standardization Subcommittee UNE/ CTN71 / SC37 "Biometric Identification" since 2013. Furthermore, he is part of the ISO/IEC JTC1/SC37 "Biometric Identification", being his work more active in WG3 "Biometric Data Interchange Formats" and in WG5 "Biometrics Evaluation", where he purposed a new International Standard on User-Interaction evaluation that is currently under NWI stage. He participated in the CEN/TC224/WG15 - "European Citizen Card".
His resumee is:
(latest update, December'16)
Main Research Lines

Biometrics (Face, Fingerprint, Handwritten Signature)
Usability
Accessibility
Mobile biometrics
Security in Identification Systems
Multibiometrics
Machine Learning
Biometrics Evaluation

R&D in Projects

4 National/Regional Projects obtained through competitive tendering
3 EU projects (EU FP7 Security)
2 Project/Contracts for Companies and Institutions

Conferences

​11 International and 1 National conferences

Publications

5 Papers in International Journals
3 Book Chapters
Editor of 3 International Standards in the ISO/IEC/JTC1/SC37-Biometrics

Graduate Teaching​

4 Final Degree Projects
Mentor in the computer security master (UNIR) since 2015
MSF Seminar at Kent University

Research Stays

​University of Surrey, Department of Computing (Guildford, Surrey. UK), 2014 (4 months). Mobile biometrics advances: face recognition for visually impaired users.
Kent University, School of Engineering and Digital Arts (Canterbury, Kent. UK), 2016 (3 months). Usability in biometric recognition systems.
"I have always wished for my computer to be as easy to use as my telephone;
My wish has come true because I can no longer figure out how to use my telephone"
Bjarne Stroustroup, IAAP